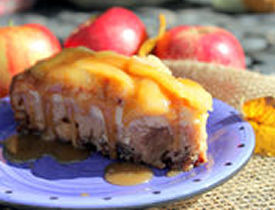 (Quite a mouthful that name. Recipes calls for Grannys but we used Jonathans. Any good baking apple will do.
Find the complete recipe at Southern Living
Trials and tribulations of an occasional baker (one of the orchard kids) — So, I decided that I needed to make this decadent dessert because my father, you know him, Alex (he drives the tractor), was having a birthday in September. He told Barb, you know her too, that he definitely did not want her to make this desert. It sounded too complicated to be good and/or he knew my mom had too many other things on her plate. Enter me, 250 miles away and with more time on my hands. I am all about spoiling my parents when I can. Yes, me, here to save the day even though the recipe calls for a springform pan which seemed a bit intimidating.
So what they don't tell you is that you need to make sure you save the parts to your springform pan in one place. Seems logical, but apparently, not something I adhere to in my kitchen. After an hour of searching, the baking fever had left. This cheesecake business is more involved than I thought.
Two days later: Next tip — Probably best not to test the spring on the springform pan after you line it with the toasted pecans. They call these "spring"form pans for a reason and mine got SPRUNG. There was a scream or two of anguish and my pup came to assist with the cleanup as she chowed down on the tasty pecans strewn all over the floor. Luckily, I had a hidden stash of extra pecans in the fridge. Things were looking up until I realized I didn't have any sugar in the house. I sheepishly ventured over to the neighbors with my trusty red measuring cup. I explained what I was up to and that it wasn't going well. They laughed with me and were happy to help me out.
I then packed up the dessert in a new cooler that I bought for the occasion and trucked it home 250 miles to the orchard for the big birthday weekend. Very involved, I know, but I was on a mission. And, the cheesecake was quite yummy. My father agreed. How fun to get to spoil the ones you love once in awhile.
Hope your baking adventures are smoother than mine!