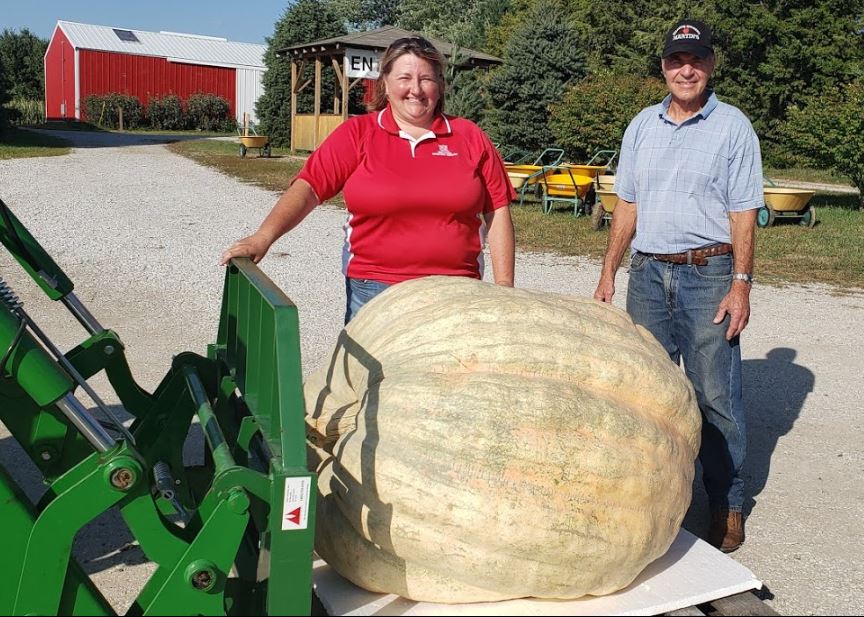 Wally is a 3-month old, Atlantic Giant pumpkin raised in Ewing, Nebraska by family members of our very own Sheila Ziems, Tamra and Larry Ziems, in preparation for a pumpkin competition in Rapid City.
At one point, Wally was gaining 23 lbs/day!
How do you move a one thousand lb pumpkin? With a John Deere, of course!
For more information on how to grow your own giant pumpkin check out this segment from "Backyard Farmer" featuring Wally and some other pumpkins Tamra and her husband grew this summer.
Tamra and Larry wanted to make sure Wally got to enjoy the limelight post-competition so we are lucky to have them choose Martin's Hillside Orchard for his forever home. Come on out and meet Wally. Great photo opportunity!
Follow the Ziems on Facebook, Instagram and twitter – their handle is "craZpumpkins" for photos of the recent pumpkin weigh-in and more info on raising these giants
We can't wait to collect a few seeds and try to grow one of these for ourselves 🙂
A BIG thanks to Tamra and Larry!