Not something to dine on – but these cute votives could certainly upgrade a table setting.  Yes, that's the connection – Orchard to table
How-tos: 
These little gourds are a bit tough to try to carve by hand so we used our trusty cordless drill with a 1 1/2″ paddle bit to do the messy work. Then, just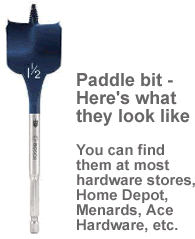 used a spoon to scoop out the seeds and plopped in a battery-operated tea light. Easy-peasy. Probably not a project for indoors but done in no time.
These votives are awesome.
Tip: Do NOT use a hole saw. While it will do a dandy job of creating the hole, it is a hazaard to try to clean the saw. A couple of Band-aids later, I learned my lesson the hard way.