Our apologies if you reached this page expecting to find a specific recipe that seems to have disappeared from our site.  As you can tell, we've revamped our website and still have some work to do in the recipe area.
We do intend to restore the recipe listings that you enjoyed in the past.  We also plan to organize them so it is easy for you to find them all in one place.  But, this will take some time to roll out.  Please bear with us.
In meantime, we'll be posting a few recipes that were recently featured in our weekly newsletter, such as these listings below.  We hope you enjoy!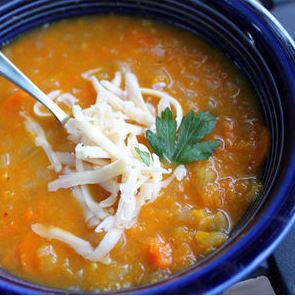 Butternut Squash Soup
Cool temps have us thinking of warm comfort foods. It's soup weather, everyone!
We can definitely recommend the following (kid-tested and mom-approved):
1. With Cream – Roasted Butternut Squash Soup – we skipped the curry as a courtesy to the kids but think it would add a nice heat element; good with whole milk as a substitute for cream
2. Without Cream – Butternut Squash Bisque – to make it kid friendly, maybe skip the ginger? We love that flavor note, however. This particular blog post is authored by a cousin back east. Good stuff. Seems that we are all thinking comfort foods this time of year.
Butternut Squash Mac and Cheese
Cool fall weater has us thinking comfort food – soups, stews, risotto, etc.  This recipe caught our eye and it really satisfies.  One medium squash can make this recipes four times over.
Below is breakdown of the types of cheese we used, but you can mix and match to include all your favorites.
American cheese – a mainstay
Boursin cheese – the recipe called for a semisoft cheese with garlic and herbs.  We opted for Boursin just because we had some left from a wine & cheese tasting. Yummy!  Although it probably more than offset the health benefits of using squash.  Oops
Sharp cheddar – Yes, we added even more cheese.  A bit of sharp cheddar.  Feta might be a good choice as well.
Complete recipe from Better Homes & Gardens
Tips
Shredding squash – Initially, seemed kind of intimidating, but we didn't want to muck up a food processor so we just shredded the squash with a food greater.  Worked well and didn't take long.
Spicing it up – For those who like a little heat, we'd suggest adding some peppers.  We're going to give that a shot next time around.