You'll need about 1 quart (4 cups) of raspberries for this pie.
Recipe adapted from the French Strawberry Glace Pie in the Betty Crocker Picture Cook Book from the late 1950s.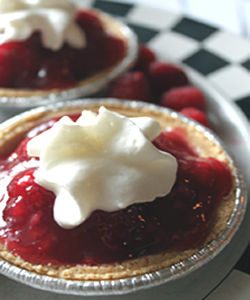 Crust
1 1/2 cups Graham cracker crumbs
1/3 cup granulated sugar
1/3 to 1/2 cup margarine
4 oz cream cheese
Filling
1 quart raspberries
1 cup granulated sugar
3 tablespoons cornstarch
Edith's secret: Use a graham cracker crust instead of the baked pie shell in the original recipe. We simplified even more and used a store-bought graham cracker crust.
Home-made Crust:
Mix crumbs and sugar. Blend melted margarine into mixture. Press into pie pan on the bottom and the sides. I do not bake this crust. I use margarine because it makes the crust softer. Cool in the refrigerator.
Soften 4 oz. of cream cheese. Spread on the bottom part of the pie shell. Return to the refrigerator.
Filling:
Wash and drain 1 quart of raspberries.
Simmer together about three minutes (1 cup of the raspberries and 2/3 water.
Blend and add to boiling mixture.(1 cup sugar, 3 tbsp. cornstarch and 1/3 cup water).
Bring to a boil stirring constantly and boil 1 minute. Let it cool down.
Put 2 ½ cups raspberries in the pie on top of cream cheese. (These raspberries you are using for the pie must be drained thoroughly. I put mine on a cookie sheet covered with paper towels. Water left in the little cup shape of the raspberries will make the crust soggy).
Pour the somewhat cooled cooked mixture on top of the fresh berries. Cool completely.
Serve with whipped cream and a few raspberries on the top.